« Back to Home Page
WILLISTON, Vermont – Pet nutritional supplement pioneer VetriScience® Laboratories has introduced a new joint health product to its Pro Line of supplements for dogs and cats. The Pro Line features VetriScience's most advanced nutritional supplements developed with and exclusively for veterinarians.
VetriScience Pro Line Amilextin™ chews for dogs feature two clinically proven ingredients that may help relieve inflammation and ease joint discomfort from daily activity and following surgery.
The bite-size chicken liver-flavored chews help protect joints and prevent cartilage breakdown, and are recommended for occasional stiffness and soreness, progressive joint conditions, or mobility issues. Amilextin™ can be paired with a daily joint health supplement, and can be given to dogs as an alternative or complement to traditional therapies.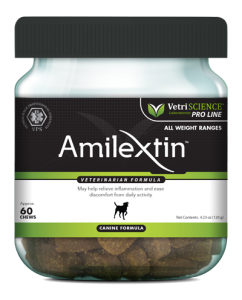 "Amilextin is an exciting addition to VetriScience's portfolio of products," said Dr. Elizabeth DeLomba, DVM, MBA, Senior Veterinary Services Consultant at VetriScience. "Amilextin is a breakthrough formula for managing discomfort and inflammation in dogs. The use of plant-based compounds with no evidence of side effects makes it a compelling alternative to conventional methods."
The VetriScience Pro Line of animal health supplements features patented nutraceutical ingredients of the highest quality and purity. All Pro Line products are researched and developed exclusively for and in collaboration with veterinarians.
Find VetriScience Pro Line Amilextin™ only at veterinary clinics. Learn more about the full line of VetriScience products for joint, behavioral, gastrointestinal, and immune health online at www.VetriProline.com.