« Back to Home Page
WILLISTON, Vermont – Pet nutritional supplement maker VetriScience® Laboratories has introduced a new heart health product to its Pro Line of supplements for dogs and cats. The Pro Line features VetriScience's most advanced products developed with and exclusively for veterinarians.
Cardio Pro™ for dogs and cats is a chew supplement featuring the Hawthorn Phytosome herb to support circulation, blood flow, and normal blood pressure. The comprehensive Cardio Pro formula also contains vitamins, minerals, and amino acids to support cardiovascular health and function in cats and dogs of all weight ranges.
VetriScience Pro Line Cardio Pro is an advanced formula based on VetriScience's popular Cardio Strength supplement. The Cardio Pro chews are recommended for dogs and cats with prior heart issues, senior pets, and breeds that are predisposed to cardiovascular issues. The daily supplement has a hydrolyzed chicken liver flavor and is suitable for sensitive diets.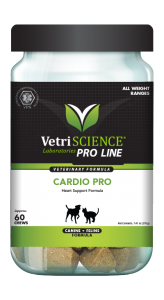 "Cardio Pro is an exciting addition to VetriScience's portfolio of products," said Dr. Elizabeth DeLomba, DVM, MBA, Senior Veterinary Services Consultant at VetriScience. "Cardio Pro serves the growing demand for heart support products with a combination of well-researched ingredients in an easily administered, multi-species chew."
The VetriScience Pro Line of animal health supplements features patented nutraceutical ingredients of the highest quality and purity. All Pro Line products are researched and developed exclusively for and in collaboration with veterinarians.
Find VetriScience Pro Line Cardio Pro only at veterinary clinics. Learn more about the full line of VetriScience products for joint, behavioral, gastrointestinal, and immune health online at www.VetriProline.com.