« Back to Home Page
Editor's note: This article originally appeared in the October 2019 issue of Vet Practice News. 
By Nicole Sheehan, DVM, CVA, CVFT
Advances in veterinary medicine and animal nutrition have resulted in pets living longer than ever before. That leaves an increasing number of cats and dogs prone to common age-related problems, such as reduced cognition, diminished joint health, and weakened immune function.
By taking a preventive approach, veterinarians can guide older pets through their senior stages and hopefully into healthy, comfortable geriatric years. The aging process leads to some level of "slowing down," but there are alternative therapies available to help maintain mobility, vitality, and quality of life in older patients.
Annual examination and lab testing
Clinical examination and laboratory testing are necessary to determine the status of an animal's health and set a baseline for future visits.
The American Animal Hospital Association (AAHA) recommends senior patients have "routine health-care visits, including a minimum laboratory database" every six months.(1) This minimum database ideally includes a chemistry panel, complete blood count, total thyroxine, urinalysis, and blood pressure.

Additional tests should be conducted based on breed, age, sex, and medical history. Those can include blood pressure and tonometry, as well as heartworm test and screening for tick-borne illnesses for dogs and FeLV/FIV test for cats.
An annual examination, including lab testing, will give you the information required to develop a treatment plan tailored to each patient's individual needs.
Nutritional support for aging pets
Nutrition plays a vital role in senior health, and pet owners rely on veterinarians to guide them with their diet choices. Typical concerns for older pets include weight loss or gain; appetite loss; joint support; and kidney, liver, or gastrointestinal difficulties. Whether it's dietary changes or specialized formulas for a specific health concern, selecting the right nutrients is critical for senior and geriatric patients. Adding key nutrients to the diet can help the aged body function at optimal levels.
It's critical to remember how dietary choices can determine the way the body takes care of itself. Dry food has long been a staple in food recommendation, but research shows canned or minimally processed food may provide a distinct advantage.(2) Older dogs and cats often prefer soft food whether or not there's evidence of periodontal tartar and plaque buildup. Reducing the amount of highly processed dry kibble in favor of less processed foods (e.g. canned, refrigerated, or dehydrated foods) can provide added ingredients that are easier to digest and often ensure a healthy appetite and body condition.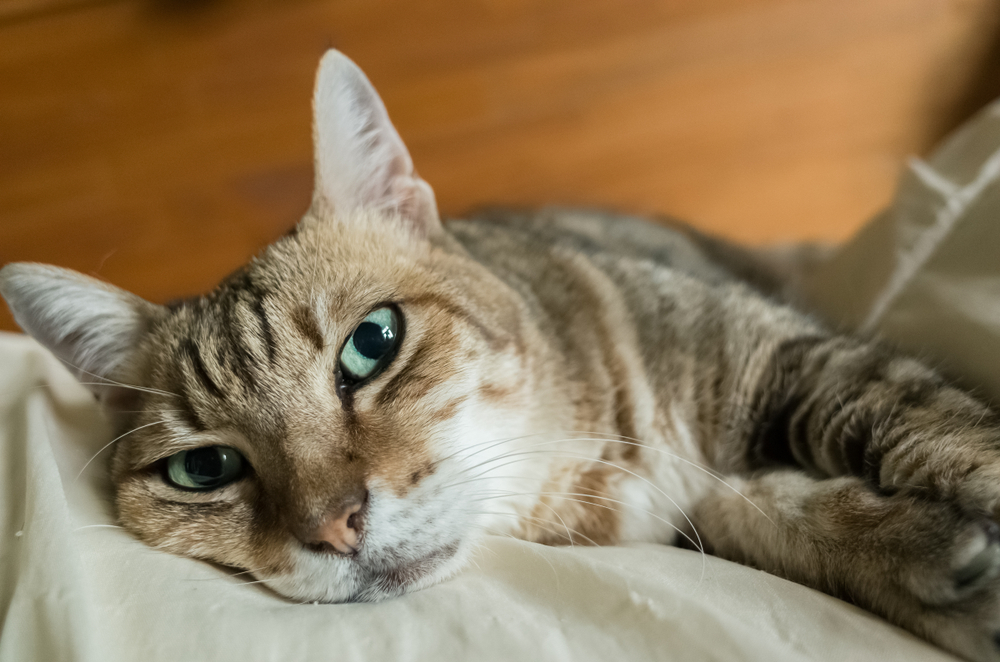 Choosing a senior support formula
One way to improve the quality of any senior diet is by adding a senior support supplement. For instance, VetriScience's Canine Senior Vitality Pro and Feline Senior Vitality Pro are specifically formulated for senior health issues. They contain powerful ingredients to help maximize body health, maintain a healthy inflammatory response, provide organ support, and increase antioxidants in the diet.
N,N-Dimethylglycine (DMG) works as a "metabolic enhancer" by improving cellular metabolism, especially under conditions of stress in the body.(3) Resveratrol and vitamin E support healthy aging through healthy inflammatory, antioxidant, and metabolic effects. Finally, choline is an essential nutrient that supports liver and nerve function, brain development, and muscle movement. It also helps maintain energy levels and a healthy metabolism. The combination of these ingredients in a chew formula makes it easy to provide exceptional care to senior dogs and cats.
Feline Senior Vitality Pro has the added benefit of Perna canaliculus, which modulates the levels of pro-inflammatory cytokines, such as TNF-alpha; IL-1, IL-2, and IL-6; cyclooxygenase; enzymes; and immunoglobulin G (IgG). The presence of chondroitin sulfates 4 and 6, hyaluronic acid, dermatan sulfate, and other key glycosaminoglycans (GAGs) in Perna provides improved viscosity, flexibility, and tensile strength of the articular cartilage.
Addressing joint health issues
Changes in comfort and activity levels are among the most noticeable aspects of the aging process. The benefits of glucosamine and chondroitin have been thoroughly researched, but there are several new alternatives added to joint formulas that support healthy joint function.
Extensive studies have proven curcumin to be a potent COX-2 and 5-LOX inhibitor. A recent study compared the bioactivity of CurcuVET, a more bioavailable form of curcumin to nonsteroidal anti-inflammatory drugs. The study found CurcuVET was effective in helping to maintain the markers associated with a normal inflammatory response in canines.(4) This response—paired with the antioxidant power of curcumin, boswellia,5 and grape seed extract6—can provide even greater comfort and mobility than joint supplements containing just glucosamine and chondroitin. These powerful ingredients are found in VetriFlex, along with hyaluronic acid, DMG, and Perna canaliculus to provide advanced joint support for dogs and cats.
MobilityFlex is formulated to aid in a healthy inflammatory and recovery response with Perna canaliculus, boswellia, methylsulfonylmethane (MSM), bromelain, as well as devil's claw and corydalis to help the body with acute discomfort. It also features RHT 247, a blend of proprietary oils containing unsaponifiable lipids, essential fatty acids, and ricinoleic acid to support a healthy inflammatory response and microbial environment in the gut. RST 247 can help restore cell membranes while improving immune response, gastric and intestinal integrity, and nutrient absorption.
Behavioral and sleep support
What about our other concerns for senior patients, such as cognitive loss and difficulty sleeping? Composure Pro is a clinical strength formula for senior pets requiring advanced behavioral and cognitive support. One key ingredient, L-theanine has been extensively researched for its ability to reduce stress, anxiety, and unwanted behavior. It also promotes calm behavior in anxious pets and may help reduce irritability and low mood states.(7)

Composure Pro contains other naturally sourced ingredients that have been shown to support sleep onset in senior pets. Tryptophan is an essential amino acid required for the production of serotonin, the key neurotransmitter aiding relaxation, restfulness, and sleep. Combined with Colostrum Calming Complex, tryptophan can help senior patients relax when anxious and improve sleep quality.(8)
Maintaining oral health
And finally, managing dental tartar often becomes a greater challenge for senior patients, but it's necessary to protect the vital organs from infection. The accumulation of dental tartar increases this challenge, as does the risk of anesthesia.
Dental treats and sticks can be effective in reducing plaque, but many older patients can no longer actively chew bones and dental treats. Perio Support Pro is a tasty, aromatic powder that can be added easily to food and provides a multimodal method for reducing tartar and bacteria in the mouth. In clinical testing, Perio Support Pro reduced the prevalence of plaque by 20 percent and tartar by 18 percent in a double-blind testing of 20 dogs in just 28 days.(9)
There are so many ways we can be proactive with our older patients that are safe for patients and easy for clients to administer. We know our clients worry about their senior pets. It's simply good medicine to provide them with proactive testing, a nutritious diet, and alternative therapies to maximize comfort, longevity, and quality of life.
Nicole Sheehan, DVM, CVA, CVFT, CVFT, established The Veterinary Hospital of Davidson in 2013 and provides holistic pet care to patients from all over North Carolina and the surrounding states. She has studied various methods of holistic medicine, holding advanced certifications in veterinary acupuncture, Chinese food therapy, veterinary Chinese herbal medicine, and meridian autonomic testing (muscle testing). 
References
1 Epstein, Mark et al. AAHA senior care guidelines for dogs and cats. J Am Anim Hosp Assoc 2005;41:81-91.
2 Buffington, CAT. Dry foods and risk of disease in cats. Can Vet J. 2008 Jun; 49(6):561-563.
3 Kendall, Roger V. and Lawson, John W. Recent Findings on N,N-Dimethylglycine (DMG): A Nutrient for the New Millennium. Townsend letter for Doctors and Patients. 2000 May.
4 Di Pierro, F et al. Comparative evaluation of the pain-relieving properties of a lecithinized formulation of curcumin (Meriva®), nimesulide, and acetaminophen. J Pain Res. 2013;6:201-5.
5 Reichling J et al. Schweiz Arch Tierheilkd. Dietary support with boswellia resin in canine inflammatory joint and spinal disease. 2004 Feb;146(2):71-9.
6 Mevel, E et al. Olive and grape seed extract prevents post-traumatic osteoarthritis damages and exhibits in vitro anti IL-1â activities before and after oral consumption. Sci Rep. September 2016;6(0):33527.
7 Nobre, Anna C et al. L-theanine, a natural constituent in tea, and its effect on mental state. Asia Pac J Clin Nutr 2008;17 (S1):167-168
8 Hartmann, E. Effects of L-tryptophan on sleepiness and on sleep. J Psychiatr Res. 1982-1983; 17(2): 107-13.
9 Hemopet Study "Evaluation and Comparison of the Effectiveness of VetriScience Powdered Perio Support on the Reduction of Plaque, Calculus, and Gingivitis in Adult Dogs.